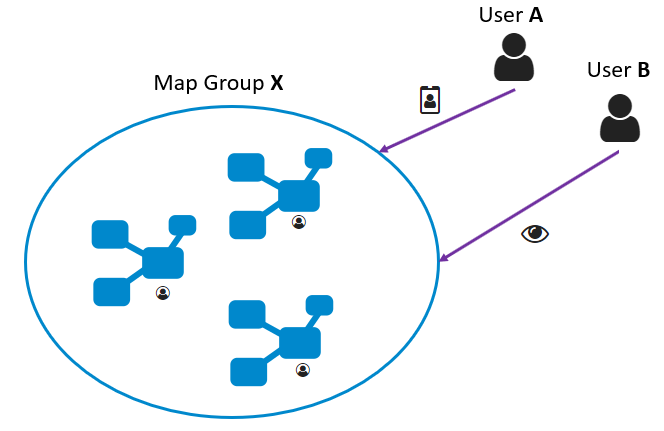 MapsOfMind has historically had the option to make maps private and share maps with other users in private. But this becomes cumbersome if you were to do this for many maps and with many users - that's why we've added a groups feature to MapsOfMind.
Let's look at how this works and how you can put it to use using a simple diagram: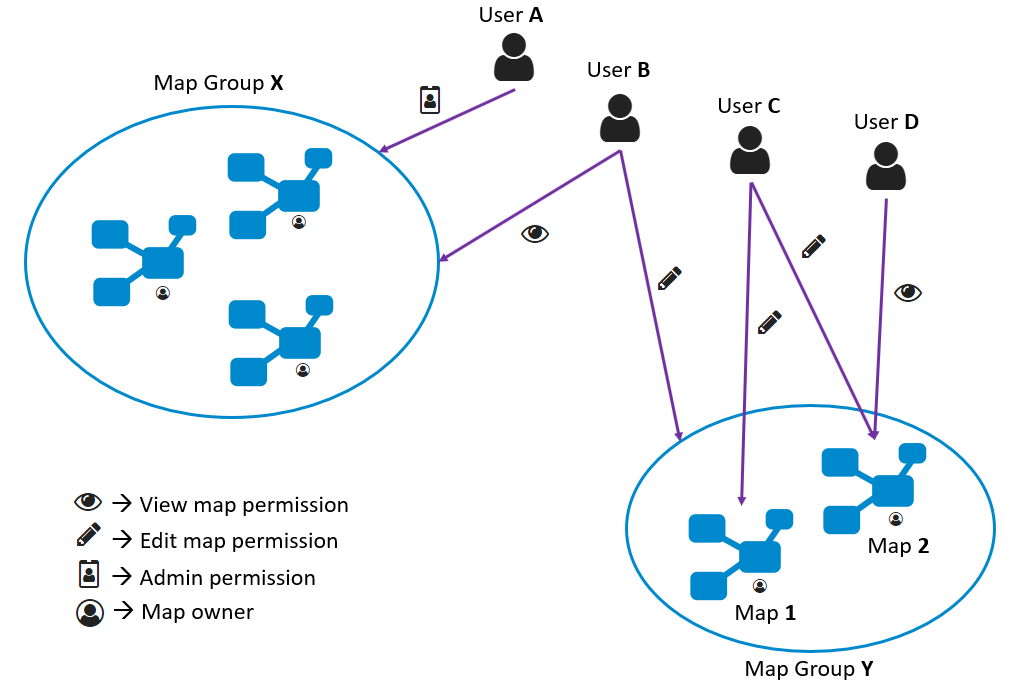 Let's get understand the basics first:
A map group consists of a group of maps
Each map group can have multiple users with read/edit/admin permissions
The group owner (admin) can give admin permission to other users
Additional permission can be given to users to give them the ability to add maps to the group
Applying this to the diagram above,
Group X has 3 maps and group Y has 2 maps
Users A can access map group X and user B can access both map group X and Y
Admin of group X is user A and user B can view all maps of group X
user B in addition to being able to view all maps of group X can also edit all maps of group Y
Unlike users A and B, users C and D cannot access the entire map group but only the individual maps of group Y (this is possible via individual map-level collaboration options)
Some possible examples or scenarios of where you can apply this:
Study groups for students for each subject where a map group can have maps about a particular topic or subject
Teachers/Managers can create read-only map groups and add students/employees to it as a way to share knowledge about a particular topic
Companies can have map groups for each team to keep the discussions relatively independent and clutter-free
Map groups can be applied to a lot of real-world scenarios where fine-grained user access control is required over a cluster of knowledge-base instances/content. Here's how the map group management options look like: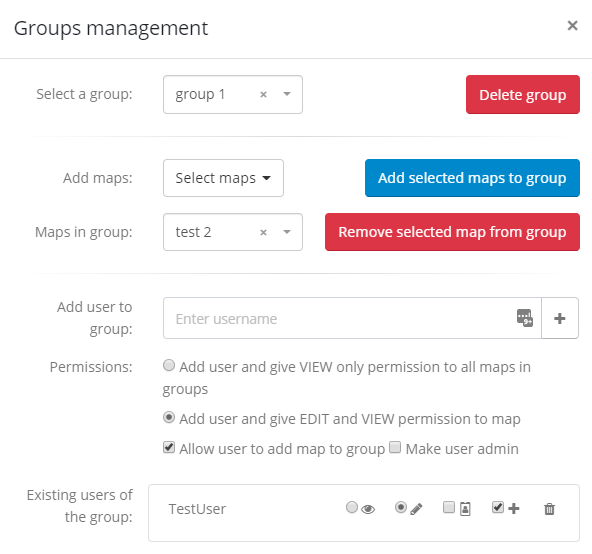 Note that group maps have a dedicated page! They are not displayed on your home page. Click on the "Groups" tab on the top to access the map groups page.

That's it for the group maps feature! Drop us an email at [email protected] if you need any assistance on how to use this feature or if you have any ideas you'd like us to implement!