New: Save/Send notes from any website directly to your mind map!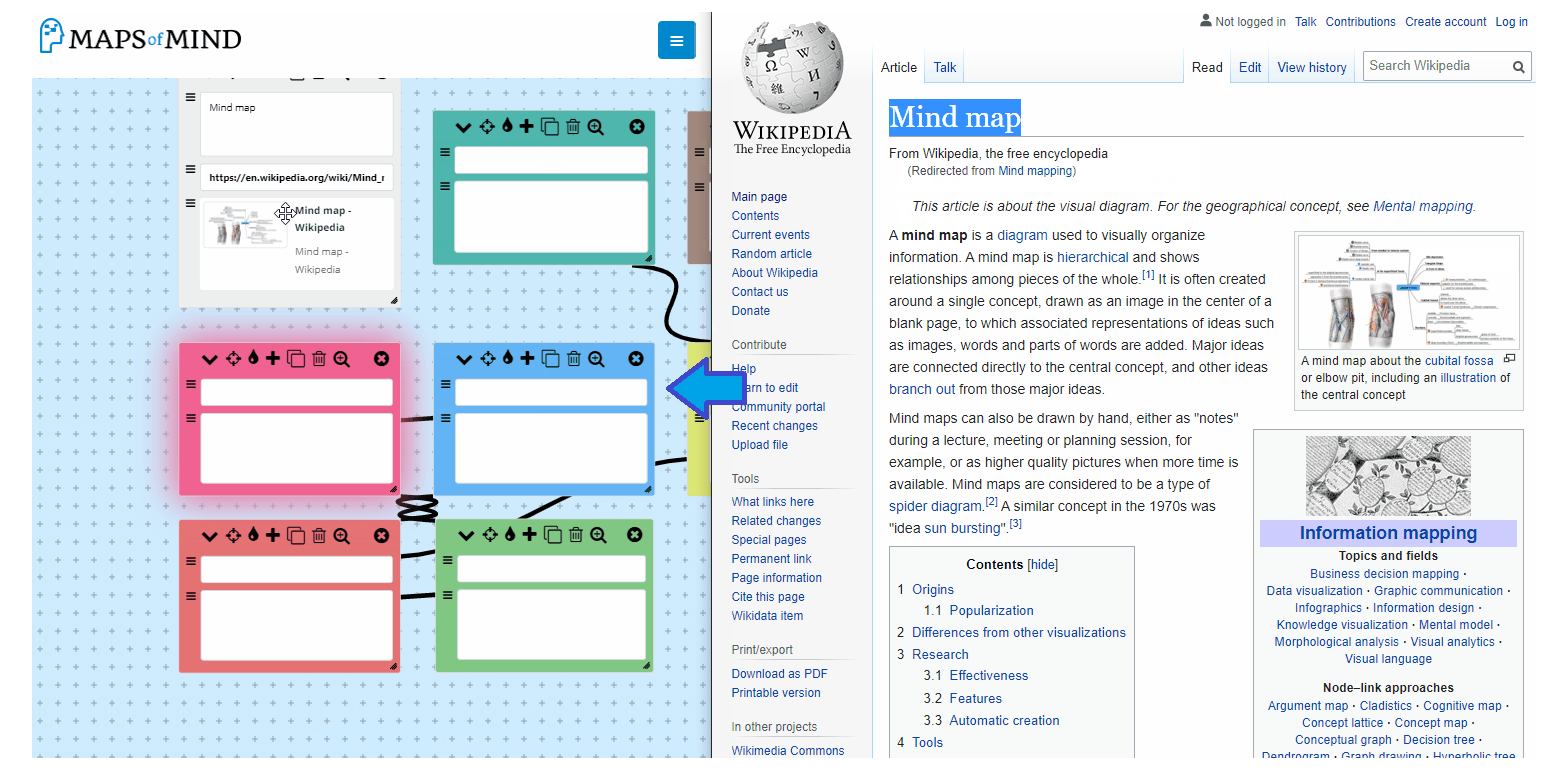 A novel feature that fees you from using your mind map only via the mind mapper interface! Ever wanted to save snippets of content on a website in a neat and organized way? You can do so very easily with a single click using MapsOfMind!
The usage is very simple:
Download chrome extension from here: (other browsers support coming soon)
Make sure you are logged into your MapsOfMind account and click on the MapsOfMind icon that appears on the top right corner of your Chrome browser:

You should now be able to see a box pop up like this:

Click on the "Sync" button and re-open the popup by clicking on the icon - you should now see the no. of maps you have in your account reflected in the extension popup. If you see any other errors or if you are still not able to see the no. of maps displayed accurately, try clicking on sync a few more times. If you still don't see any new info updated in the popup, let us know at [email protected]
Once the sync date is updated and you see the map count, you are ready to send notes and snippets to your mind map directly from chrome!

To use the extension, select any text on a website, and right-click the selected text. You will now see a new context menu option that looks like this:

Clicking or hovering on it will open sub-menus from which you can select the map - note that you can set what maps you want to view in the context menu in the extension's popup. Finally, select the map you want to send the selected text to, and voila! It's saved automatically!
Here's the magic in action. On the right side, we have a browser with the text we want to send to the map and on the left side, we have the map itself open! You will see how the text is sent to the map and the map automatically be rearranged (all set via the popup menu):
(Note that you do not need to keep your mind map open to do this! This is just a demonstration to show that even if your mind map is open and active, you will be able to see the newly added InfoBox immediately!)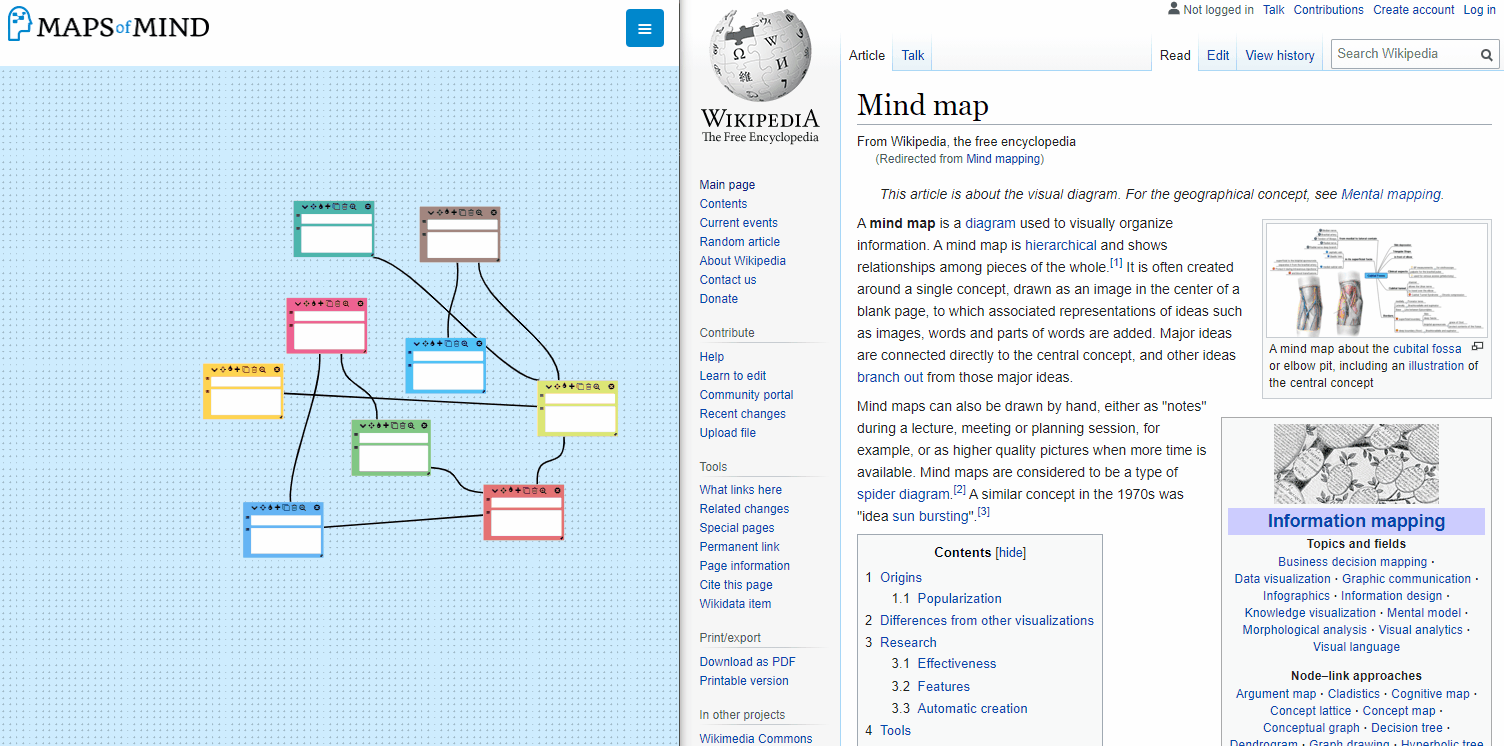 More options and flexibility on how you want the data to be integrated into your map is coming soon! Let us know your feedback by sending us an email to [email protected]! This is a beta feature and we'd very much appreciate your input!
Installing the extension
Chrome Browser:
Update: Our extension is now launched! Check it out here: https://chrome.google.com/webstore/detail/mapsofmind-save-to-mindma/aldnceeapjjfjgdikefcjhapdmjijdam
After you install it, you should now see the extension on the top right corner of your browser. If you don't see the extension, click on the small puzzle piece icon and find MapsOfMind save to map extension, and click on the pin next to it.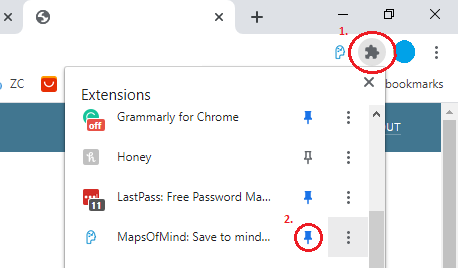 Firefox Browser:
Just install from this link: https://addons.mozilla.org/en-US/firefox/addon/mapsofmind-save-to-mindmap/ and click on Sync once you have installed the extension.
Note that for both browsers, you might have to click on sync more than once so that the extension recognizes your account properly. If it does not recognize your account and sync properly, please contact us at [email protected]